[ad_1]

Activision has already confirmed the name of the Season 4 update to Call of Duty: Mobile. Now, the company has confirmed everything that there is to know about the update. As mentioned earlier, the update will add two new weapons, a map, tactical equipment, and a scorestreak to the game. This time, we also got details of the new Battle Pass as well as a bunch of other details. The new season will be available from May 26 onwards.
Call of Duty: Mobile Season 4 Spurned & Burned – Battle Pass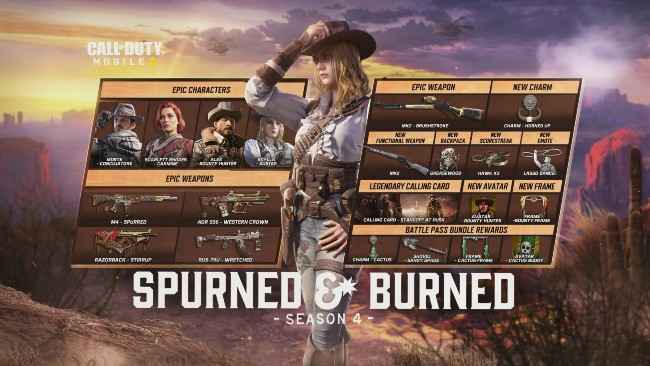 Those on the free Battle Pass can look forward to earning the Hawk X3 scorestreak when they reach Tier 14. Upon reaching Tier 21, players will earn the MK2 Marksman Rifle, a lever-action rifle that should offer a good fire rate. Other free items that players can earn include the Saddled Charm, the Cyborg Showdown Calling Card, the Wagon Wheel camo series, and more.
Premium Battle Pass players can look forward to unlocking Alex—Bounty Hunter right at Tier 1, along with the Razorback—Stirrup and the Standoff at Dusk Calling Card. As they move up Tiers, they will unlock Morte—Conciliatore and Scarlett Rhodes—Carmine, the MK2—Brushstroke, the Lasso Spin emote, COD Points, and more.
Call of Duty: Mobile Season 4 Spurned & Burned – New maps and game modes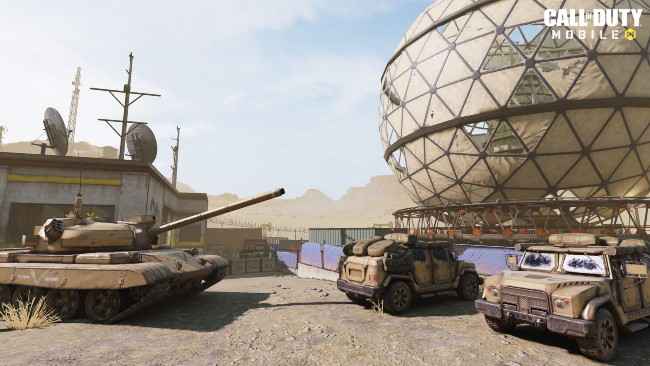 The Dome map from Call of Duty: Modern Warfare 3 is making its way to the mobile version of the title. The map is set on an abandoned military radar station in the middle of the desert. Capture the Gold is a variant of the popular Capture the Flag game mode. In this mode, players killed by the 'gold carrier' will drop power-ups that can be used to gain an advantage. Further, the 1v1 Duel game mode makes a return, while Prop Hunt sees the addition of Tunisia and Coastal maps.  
Call of Duty: Mobile Season 4 Spurned & Burned – Season Challenges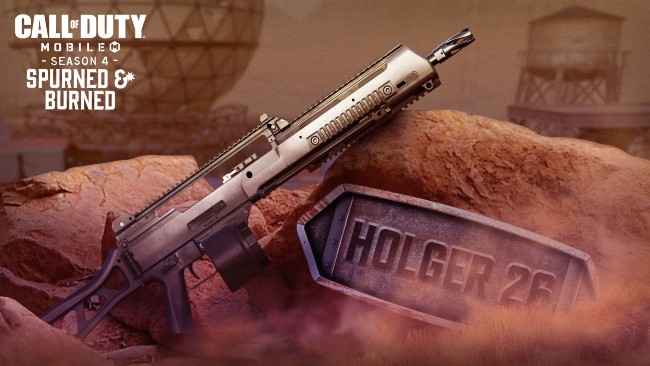 There are a few items that will be made available to players via Seasonal Challenges. This includes the Heartbeat Sensor. This device takes the place of a tactical grenade and allows users to scan nearby areas for enemies. However, players will not be able to fire their weapon when looking at the sensor, so they have to time their actions. 
The Holger 26 LMG will also be available via a Season challenge. The new LMG can be tweaked in Gunsmith to "dramatically alter" the weapons capabilities. This should improve the weapon's overall flexibility. There is also a new melee weapon, the Sickle, that will also be available via a seasonal challenge. 
Call of Duty: Mobile Season 4 Spurned & Burned – Weapon balancing and Gunsmith 2.0
The developers have announced a new update to Gunsmith. However, the developers have not yet confirmed what those changes are. There is also major weapon rebalancing across the board. You can learn more about that here. 
Call of Duty: Mobile Season 4 Spurned & Burned – Other additions
In Battle Royale mode, developers have optimised all vehicles. This includes better durability for motorcycles and for off-road, all-terrain, and assault vehicles. There are also new Tank operations selectable under vehicle settings.
There is also a new Clan Wars feature that allows clans to battle with five other clans in six-day tournaments. Clans will earn points for their clan's individual node performance and advance through a progressive system to win rewards 
Season 4's feature event will be called the High Noon Chase event. Players will be tasked with getting gasoline by playing Multiplayer and Battle Royale matches. This gasoline will be used to chase fleeing multiple villains across various destinations. Players will earn rewards every time they give chase. This includes the Tengu – Black Gold Operator skin and the Echo – Steam Clock Weapon Blueprint.
[ad_2]

Source link